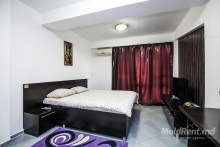 Descriere
Luxurious apartment in the new house. Located at the intersection of Stefan cel Mare and Ishmael (the store "Alina Electronics").
The European-style, modern design, neat and clean yard.
Not far from the house paid guarded parking.

The apartment is fully meets all the requirements: There are kitchen utensils, refrigerator, washing machine, kettle, crockery, microwave.
Comfortable furniture. Balcony for smoking. Flooring - laminate. Bathroom with a shower.
Be sure to clean linens and towels.
We reserve the comfort of home for you our guest !!!
Bloc nou
Conditioner
Lift
balcon
WiFi

9

Etaj
Detalii:
Incalzire autonoma
echipat cu electrocasnice
parchet
mobilat integral
supermarket
cablu TV
internet
Geamuri termopan
Contactati-ne cu privire la închirierea:
Mobil:
+373 60 577 477
+373 794 022 50
Rezervare
Apartment pe harta
Check-in: incepind cu 14:00
Check-out: pina la 12:00