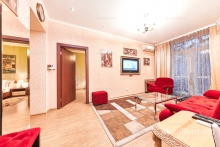 Descriere
The apartment is located in the city center on the Stefan cel Mare street.
Freshly renovated apartment, decorated in European style.
The apartment is fully furnished.
2 bedrooms with two queen beds, a cozy living room with luxurious sofa bed, a plasma TV with a lot of European and Russian television, a large kitchen with all the necessary appliances for cooking and eating.
Bathroom equipped with Jacuzzi.
The apartment is located on the Ismail street.
Freshly renovated, decorated in European style, in the new building.
Perfectly clean, the most comfortable and spacious apartment, which has air conditioning, plasma TV, microwave, washing machine.
Parquet, furniture, 2 bedrooms with two queen-beds, a big living room with comfortable furniture.
Appartment offers high-speed internet access.
Near the house there is a guarded parking (fee).
IMPORTANT: The minimum number of nights booking - 3.

Absolute cleanliness, clean linen and towels!
Bloc nou
Conditioner
Lift
balcon
WiFi

2

Etaj
Detalii:
Incalzire autonoma
echipat cu electrocasnice
mobilat integral
cablu TV
internet
Geamuri termopan
Contactati-ne cu privire la închirierea:
Mobil:
+373 60 577 477
+373 794 022 50
Rezervare
Apartment pe harta
Check-in: incepind cu 14:00
Check-out: pina la 12:00